Intended for professional traders which already has individual analysis experiences and are aiming to run businesses independently – outside of the method of "KAYINCO". We are offering and providing you with this "Lite Membership" package, with the monthly fee of only $20 [IDR 250 ribu] – without paying Success Fee [0%].
What you will get:
1 unit of EA-KAYINCO [with 3 choices of timeframe versions: "H4", "H1" or "M30"].

A whole, 100% EA-KAYINCO product, same as the one included in "Full Membership" package.

Unique and user-friendly User Interface – generating information needed, in a powerful way.

Valuable signals generated from EA-KAYINCO to support your analysis.

Forex VPS hosting support – perfect for all brokerage company in the world.
The benefits that you can get by joining with this membership:
Free IB support [if you are an IB with a lot of clients].

Be able to modify the Moderate/Aggressive setting for your clients' accounts.

Be able to suggest your email and website on User Interface [terms and conditions apply].

Your clients can test EA-BACKTEST using your account's investor password.

Get 20% discount by hiring more than 3 units of EA-KAYINCO for your Personal_ID.
---
The usage procedures and early settings are very simple, as shown below:
1. Download the new MT4 [create a new folder, in case you have the old MT4].
2. Activate your clients' account – according to your IB broker company's.
3. Next, download "EA-KAYINCOsetup.exe". Install it into the new MT4.
4. Go to View → Navigator → Expert Advisor and choose EA-KAYINCO.
5. Go to Expert → Input and enter your Personal_ID [see image below].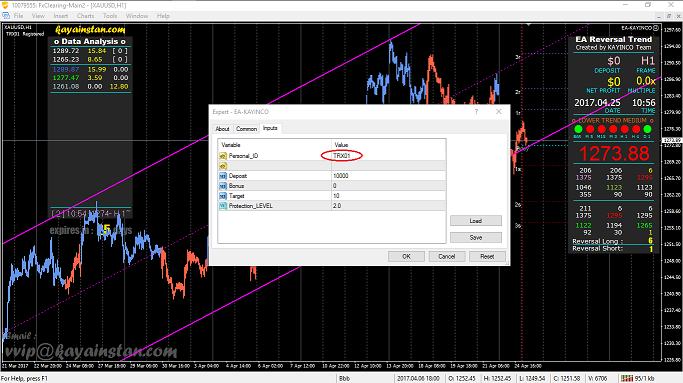 ---
Below are the procedures on how to do backtest on an active and registered account:
1. Go to View → Strategy Tester. Make backtest settings shown in the images below.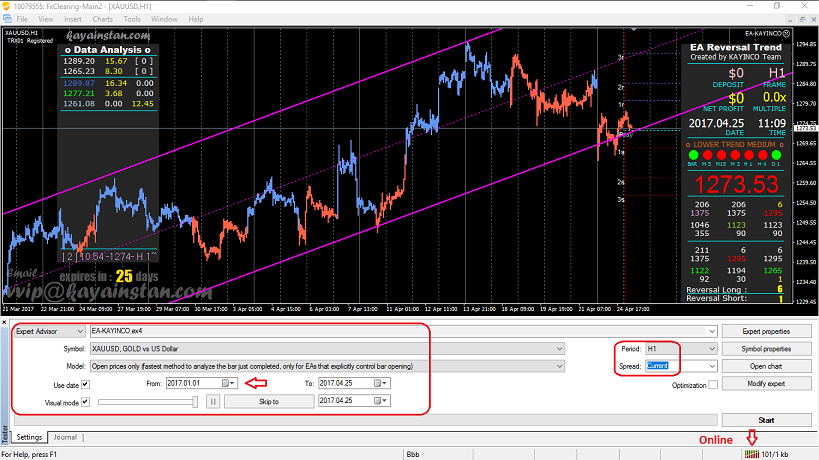 2. Inside the "To:" column, set the date on the present day.
3. Inside the "From:" column, set the date on every Mondays.
4. EA-KAYINCO Backtest testing can only be permitted for the timeframe.
5. Do these testings several times with different time settings to find the probabilities.
6. The farther it goes back, it is possible that the timeframe file database is incomplete.
7. EA-BACKTEST works based on standard algorithm without intervention from KAYINCO team.

‼ Get 30% discount by using IB-KAYINCO [terms and conditions apply].

# EA-KAYINCOsetup.exe is safe and uninstall-able in Windows.
# A PDF guidebook about EA-KAYINCO signals will be sent to members' emails.