With Full Membership offer, you will be provided with all features available:
• 10 units of EA-KAYINCO [in various versions].
• Free VPS [$12/mo] as replacement means for your PC.
• Analysis reports & Livestream supports for the Scalping Trading.
• Access to enter the community of KAYINCO "MasterMind".

The benefits that you can get by joining with this membership:
• Project #1: Passive income assurance from EAs working independently.
• Project #2: Active income assurance from accurate manual trading.
• Project #3: Valuable information assurance from community analysis.
---
Please notice that we are analysts and IT programmers who worked independently and are not part of any brokering companies. Beforehand, we will do selections and compatibilities towards EA-KAYINCO.
For Project #1, your accounts will be registered to 5 different brokerage companies in a year. In the next contract, they will be diverted to another brokerage companies [to split risk, in case there are dishonest or bankrupt broker companies].

They must have "Account-Cent" and can only be registered through IB=KAYINCO because your information data will be automatically connected with KAYINCO's server [splitting risks over investment capital into a few smaller accounts].
So as a member, you just have to fill in the "Personal_ID" code to activate EA-KAYINCO onto every MT4, each of them holds maximum 10 accounts registered inside KAYINCO's server.
EA-KAYINCO can be set into a few choices of investment-type accounts:
• Registered in Account-Cent = Minimal deposit account value is USD $100.
• Registered in Account-Mini = Minimal deposit account value is USD $1000.

The probability rate of winning is higher when accumulated from 10 active accounts.
The implementation process with 10 probabilities is as follows [Account-Cent]: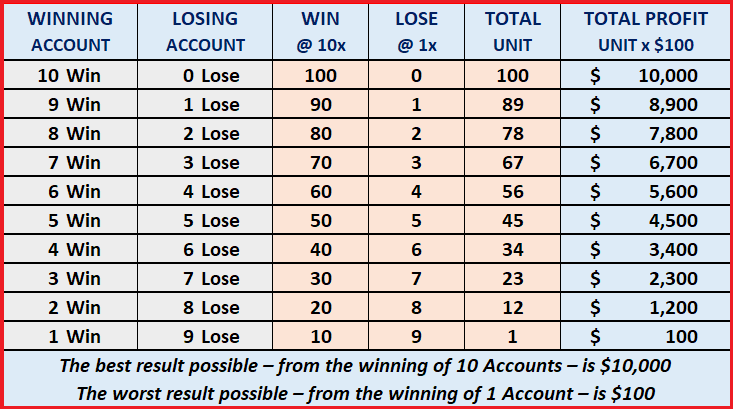 For Project #2, we will send you information and chart images through WhatsApp to your phone number which registered in the brokerage company. If you would, please use "WhatsApp for PC" so your phone's WhatsApp can be displayed clearly on your computer screen [for Windows 8/10].
Some examples of the chart images [you may click the first image to zoom in]:

It would need at least 2 months' time for you to master and read the signals and analysis of Project #2 properly. Afterwards, you will be given opportunities to use EA-SIGNAL for timeframe 5M and 1M as an assistant for you to transact "Scalping"-ly, in the shape of Member Livestream.
Here's one of the examples of our Livestreaming feature.
Profits that are obtained from Project #2 and Project #3 supports are fully yours; YOU will get the best positions for either your personal account or your client's. Therefore, supporting information from your personal analysis will have better quality.
Please notice, because of KAYINCO's "Mastermind" team is based in Indonesia, then we are using "Bahasa Indonesia" as our introduction language at WhatsApp [please kindly use Google Translate].
Please register. Add our WhatsApp : +65 8246 3494